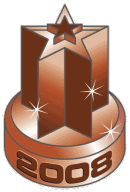 HOUSTON, TX, January 15, 2008 — The results are in! GigMasters.com, the #1 online entertainment booking service, recently revealed its annual "Rising Star Award" winners for 2008. The 154 winners were selected from GigMasters nationwide database of over 5,500 top-quality, client-rated entertainment acts.
Chamber Music Unlimited earned the coveted "Top Classical Trio" award for outstanding achievement in live music and event entertainment bookings, based on positive client feedback.
"We are extremely pleased and honored by this latest recognition from GigMasters," said Beverly Allison, Founder and President of the talent booking agency in Houston.
"For more than 28 years, we've been privileged to provide the soundtrack for countless wedding ceremonies, corporate events and private parties throughout the Greater Houston area. This award certainly recognizes our efforts to provide excellent service to our customers and to help make their events even more memorable."
GigMasters' entertainers earned $13.7 million dollars in 2008, while performing at weddings, special events, clubs, parties, and other venues. These winners represent the highest earning GigMasters entertainers throughout North America.
To see the complete list of winners go to: http://www.gigmasters.com/RisingStars2008
Chamber Music Unlimited represents hundreds of musicians, and provides romantic string trios, quartets, trumpet players, harp players, or unique combinations of different instruments to help make events even more memorable.
"These guys are great! From the first moment we talked about the event to the day before the wedding, Chamber Music Unlimited were always on top of every detail. Very professional. Very well-versed in all the details that needed to happen. I didn't have to do anything but show up to the wedding! They were perfect!" said Ann P. who recently hired the group to play for her wedding in Houston, TX.
GigMasters.com© is the #1 online entertainment booking service, guiding party planners and hosts to the right entertainment for every event. With the Internet's largest nationwide database of client-rated performers for live music and variety entertainment, this Redding, CT-based business boasts a database of over 5,500 performers including live bands, wedding musicians, party DJs, impersonators, hypnotists, stand-up comedians, jazz trios, bagpipes, string quartets, soloists and more. GigMasters.com has helped facilitate more than 50,000 bookings since its inception in 1997, including over 20,000 in 2008 alone. The site, which was founded by Kevin Kinyon and Michael Caldwell, attracts 20,000 daily visits throughout North America. GigMasters.com is a proud member of the Better Business Bureau, TRUSTe, and is also a VeriSign Secured website. For more information, please visit www.gigmasters.com.
To visit Chamber Music Unlimited's listing page on GigMasters, please visit www.gigmasters.com/classical/ChamberMusicUnlimited
---
CONTACT:
Bethridge Toovell – Public Relations, GigMasters
[email protected]
Cell: (917) 821-4249
Marissa Latshaw – Marketing, GigMasters
[email protected]
Cell: (203) 249-2958
Beverly Allison – Owner, Chamber Music Unlimited
[email protected]
Cell: (281) 469-2496