Liberty Quartet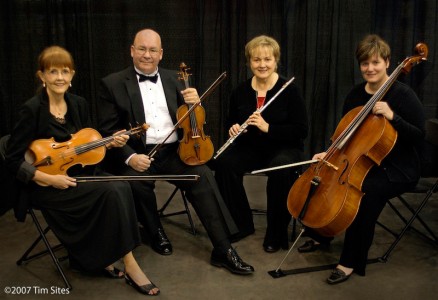 Flute, violin, cello and viola.
In addition to the musical styles and samples below, the Liberty Quartet has also developed a repertoire of Indian music that works beautifully for ceremonies, pre-ceremonies, and receptions for brides who want something unique.
Click the links below to listen to audio samples.
Aria – G.F. Handel
Jesu, Joy of Man's Desiring – J.S. Bach
Winter (from the Four Seasons) – Vivaldi
Trumpet Voluntary – J. Clarke
Canon in D – J. Pachabel
Bridal March – R. Wagner
Bridal March – F. Mendelssohn
Trumpet Tune – H. Purcell
Flute Quartet in D – W.A. Mozart
Air in D Major from Suite #3 – J.S. Bach
Gigue in D Major from Suite #3 – J.S. Bach
My Heart Ever Faithful – J.S. Bach
Rondeau – J. Mouret
Le Rejouissance from the Fireworks – G.F. Handel
Arioso from Cantata #156 – J.S. Bach
Romanza from Eine Kleine Nachtmusik K. 525 – W.A. Mozart
Sheep May We Safely Graze from Cantata #208 – J.S. Bach
Alleluja from Exultate Jubilate – W.A. Mozart
Trumpet Voluntary – J. Clark
Hornpipe from Water Music Suite – G.F. Handel
Air from Water Music Suite – G.F. Handel
Ave Maria – F. Schubert
For a comprehensive songlist, click here. »
Sterling Strings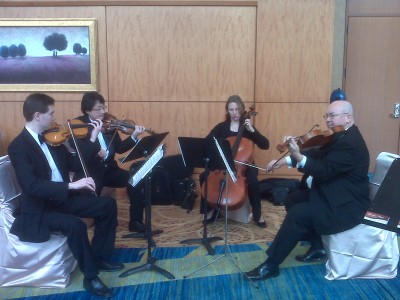 Strings for all occasions. Single, duo, trio, quartet and larger.
Click the links below to listen to audio samples.
Bach: Brandenburg Concerto No. 3, 1st Movement
Bach: Brandenburg Concerto No. 3, 2nd Movement
Bach: Air
Mouret: Rondeau
Bach: Arioso
Massenet: Meditation from "Thais"
Bock: Sunrise, Sunset
Handel: Air
Bernstein: One Hand, One Heart
Vivaldi: Spring
Bach: Jesu, Joy of Man's Desiring
Schubert: Ave Maria
Pachelbel: Canon in D
Vivaldi: Winter
Purcell: Trumpet Tune
Clarke: Trumpet Voluntary
Wagner: Bridal Chorus
Mendelssohn: Wedding March
Handel: Hornpipe
Beethoven: Ode to Joy
Webber: Memory
Webber: All I Ask of You
Kreisler: Schön Rosmarin
Strauss: Emperor Waltz
Ivanovici: Anniversary Waltz
Joplin: Country Club Waltz
Anderson: Blue Tango
Anderson: Belle of the Ball
Anderson: Fiddle-Faddle
Tchaikovsky: Nutcracker Overture
Tormé: The Christmas Song
Handel: Joy to the World
For a comprehensive songlist, click here. »
Also a more contemporary repertoire, listed below are SOME of our newest acquired trio and quartet selections.
A Hard Days Night (The Beatles)
A Thousand Years (Christina Perry)
A Whole New World (from Disney's Aladdin)
Across the Universe (The Beatles)
All I Ask of You (Andrew Lloyd Weber, from The Phantom of the Opera)
All My Life (K-Ci and JoJo)
All of Me  (John Legend)
All of My Love (Led Zepplin)
Amor De Chocolate (Naldo)
Amapola (La Calle)
At Last (Gordon and Warren)
Aura Lee (Fosdick and Poulton)
Baby (Justin Bieber)
Best Day Of My Life (American Authors)
Better Together (Jack Johnson)
Billie Jean  (Michael Jackson)
Bittersweet Symphony (The Verve)
Blackbird (The Beatles)
Bohemian Rhapsody (Queen)
Bolero (Mr. Ravel)
Can't Help Falling in Love (Elvis)
Chasing Cars (Snow Patrol)
Chitty Chitty Bang Bang (Sherman)
Clarity (Foxes)
Clocks (Coldplay)
Concerning Hobbits (from The Lord of the Rings)
Con Te Partiro ("Time to Say Goodbye") (Francesco Sartori)
Counting Stars (OneRepublic)
Cry Me a River (Arthur Hamilton)
Don't Stop Believin' (Journey)
Edelweiss (from The Sound of Music)
El Choclo (Angel Villoldo)
Elanor Rigby (The Beatles)
Eight Days a Week (The Beatles)
El Tango de Roxanne (from Moulin Rouge)
Espanhola (Guabara)
Every Breath You Take (The Police)
Every Teardrop is a Waterfall (Coldplay)
Feelings (Morris Albert)
Fico Assim Sem Voce (Buchecha)
Fields of Gold (Sting)
Fly Me to the Moon (Frank Sinatra)
Forrest Gump Main Theme (Danny Elfman)
For Just a Moment (Foster, from St. Elmo's Fire)
For the Love of a Princess (from Braveheart)
Forever
From This Moment On (Shania Twain)
Gabriel's Oboe (from The Mission)
Game of Thrones Main Theme (Ramin Djawadi)
Get Lucky (Daft Punk feat. Pharell Williams)
Girl (The Beatles)
The Girl From Ipanema (Antonio Jobim)
Godfather Love Theme (Nino Rota)
Good Morning (Lyle and Cerney)
Hallelujah (Leonard Cohen)
Halo (Beyonce)
Happy (Pharrell Williams)
Harry Potter Medley
He's a Pirate (theme from Disney's Pirates of the Carribean)
Here, There, and Everywhere (from Revolver)
Here Comes The Sun (George Harrison)
Hey, Soul Sister (Train)
Ho Hey (The Lumineers)
Home (Edward Sharpe and the Magnetic Zeros)
House of the Rising Sun (The Animals)
I Don't Want to Miss a Thing (Aerosmith)
I Gotta Feeling (Black Eyed Peas)
I Left My Heart (In San Francisco)
I'm Yours (Jason Mraz)
Il Postino (theme from The Postman)
In My Life (The Beatles)
I Say a Little Prayer (Burt Bacharach)
It's a Small World (from Disney Land)
Let It Go (from Disney's Frozen)
Just The Way You Are (Bruno Mars)
Killing Me Softly With His Song (Charles Fox and Norman Gimbel)
La Muerte del Angel (Astor Plazzola)
Legends of the Fall Main Theme (James Horner)
Le Petit Negre (Claude Debussy)
Let It Be (The Beatles)
Let's Dance (David Bowie)
Love Me Tender (Elvis)
Make You Feel My Love
Love Story (Taylor Swift)
Love Theme for Nata (from Cinema Paradiso)
Lucky  (Jason Mraz/Colbie Caillat)
Maria Maria (Santana feat. The Product G&B)
Marry You
Misty (Erroll Garner)
My Girl (The Temptations)
My Way (Frank Sinatra)
New York City (Fabio Zapata)
Ob-La-Di, Ob-La-Da (The Beatles)
Oblivion (Astor Piazzolla)
O Perfect Love (J, Barnby)
One Hand, One Heart (from West Side Story)
Palladio (Karl Jenkins)
Paradise (Coldplay)
Part of Your World (from Disney's The Little Mermaid)
Payphone (Gym Class Heroes feat. Adam Levine)
People Will Say We're In Love
Pink Panther Theme (Henry Mancini)
Red Sails in the Sunset (Williams)
Rolling in the Deep (Adele)
Rosa
Royals (Lorde)
Roxanne (Sting)
Safe and Sound (Capital Cities)
Saigon (Claudio Cartier)
Theme from Schindler's List (John Williams)
Secrets (OneRepublic)
She
She's the One (Robbie Williams)
Singing in the Rain
Sleeping Beauty Waltz (from Disney's Sleeping Beauty)
Somebody That I Used to Know (Gotye)
Something (The Beatles)
Somewhere Over the Rainbow (from The Wizard of Oz)
Stairway to Heaven (Led Zepplin)
Starlight
Star Wars Main Theme (John Williams)
Sweet Child O' Mine (Guns N' Roses)
Stand By Me (Ben E. King)
Summer (Adam Wiles)
Summertime (George Gershwin)
Theme from Superman (John Williams)
Sweet Disposition (Temper Trap)
The Sycamore (Scott Joplin)
Take the A Train (Billy Strayhorn)
Talking to the Moon (Bruno Mars)
Tatuagem (Chico Buarque)
That Means A Lot (The Beatles)
The Roses
The Bare Necessities (from Disney's The Jungle Book)
The Thorn Birds Theme (Henry Mancini)
Thriller (Michael Jackson)
Through the Eyes of Love
Tik-Tak (Johann Strauss)
Tonight
Unchained Melody (North and Zaret)
Unforgettable (Nat King Cole)
You and Me (Lifehouse)
You Are So Beautiful (Joe Cocker)
Young and Beautiful (Lana Del Ray)
Valse (from Der Lebermann) (A, Grunfeld)
Wake Me Up (Avicii)
Wave
The Way We Were
We Are Young (fun.)
We Have Only Just Begun
Wedding Song (Where There is Love) (Paul Stookey)
What a Wonderful World (Louis Armstrong)
Whatever (Oasis)
What is Love (Haddaway)
What Makes You Beautiful (One Direction)
When a Man Loves a Woman (Percy Sledge)
When I Fall in Love
When You Say Nothing At All (Roman Keating)
When You Wish Upon a Star (from Disney's Pinocchio)
Who Wants to Love Forever (Queen)
With a Little Help From My Friends (The Beatles)
With or Without You (U2)
Viva la Vida  (Coldplay)
What A Wonderful World (Weiss/Thelle)
Without You (David Guetta)
Wonderful Tonight (Eric Clapton)
Yellow (Coldplay)
Yesterday (The Beatles)
Your Song (Elton John)
Ready to book a quartet?
Click here to tell us about your event and begin the booking process!
Questions? Call us for more information: 281.469.2496 or email us at: [email protected]